Am I supposed to care about the Winter Olympics? Maybe. It's hard for me to not scoff at the idea that NBC and other media outlets think they can try and sell the American public on cross country skiing and paired figure skating as something we should give up our free time to devour, when the rest of the year is spent reminding us that WE ARE ONLY TWO WEEKS AWAY FROM THE N. F. FREAKIN L. SCOUTNIG COMBINE! THAT'S RIGHT, COVERAGE FOR SEVEN HOURS A DAY, EVERY DAY FOR A WEEK OF YOUNG MEN IN TIGHT UNDER ARMOUR WORK OUT CLOTHES DOING THE CONE DRILL!!!!!
There are a number of reasons America is hated the world over, and our obsession with football above all other sports is one for sure. We simply don't care about the Winter Olympics until the Winter Olympics, which is why we look like hypocrites when we act like the American contingent of athletes are people we've been following since their birth. If you think I'm being cynical, fine. Just remember this when you realize a member of the U.S. bobsled team is the same guy you berated at the Home Depot for bringing you the wrong type of primer.
That all being said, this edition of the Winter Games might go up in smoke as long as the media continues to trash Sochi. The fears that Russia wasn't going to be suitable or safe host were actually voiced first by the athletes, which makes me believe that Sochi never was prepared for the Olympics. Members of Team USA have been telling their families to not travel with them to Sochi as far back as November, mostly because of concerns about security against terrorists. Add that to the fact that the accommodations for members of the media have not lived up to their standards, and you get very strange pictures of Russian bathrooms  circulating around the Internet.
Originally, I figured that some CNN reporter didn't get strawberries in their fruit salad or some other B.S. like that, so I just chalked all those bad raps up to whining. Then I tried to imagine myself taking a deuce with a stranger. This… is frightening. There's not even any toilet paper in this one! Imagine the conversation you have to have then. You'd have to go to some dark places with some random Slovakian. I don't care if your Shaun White's mother. You need to avoid Russia at all costs. (Although reporters are whining now, because the newest stories have them standing at airports screaming, "WHY WON'T PEOPLE COME?!?! DON'T THEY REALIZE HOW ALONE I AM?!?!")
The Super Bowl gave me two moments of very different emotions. I felt like I should blog until I die when Percy Harvin made me look like a genius by taking back the opening kickoff of the second half for a score. I knew at that moment I was destined to be an analyst. I was so ready to jump on this WIS post and kick butt. Then I saw Russel Wilson's tweet.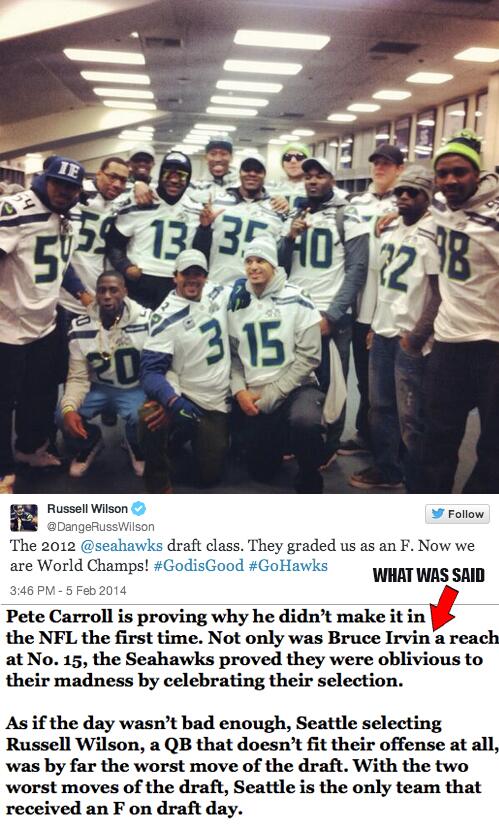 Oh, Bleacher Report. Why? How on earth could this happen? Right when I feel like I might know a little something about sports, a well-respected and widely-read blog reminds me of the harsh truth: on the blogosphere, we are all ignorant, arrogant S.O.B's.
But enough football. BRING ON THE CURLING!!!
We are actually only six weeks from Selection Sunday, meaning that college hoops games at this time of year actually mean something. So I will give credit where credit is due (but still hasn't really been given because THE COMBINE IS IN TWO WEEKS!!!). The hottest team in the nation isn't Florida, Texas, Michigan, or even Syracuse and Wichita State, the only two remaining unbeatens. It's the Cincinnati Bearcats, the underrated kings of the underrated American Athletic Conference. Mick Cronin deserves a lot more love than he's getting for national coach of the year. He's taking a program that's known nothing but "meh" and making a "WEEEEEEEEE ARE THE CHAAAAAMMMMMPPIONS, MY FRIEEEEEEEEENDS."
It's also a team that's fairly young. Only three seniors that were starters last year played significant minutes, while many of the other key role players are getting quality minutes for the first time. But those three seniors are balling out. Sean Kilpatrick's shooting touch is as a sweet as ever as he leads the team in scoring (19.7 PPG) and minutes. Justin Jackson has been a force inside (11.4 PPG, 7.0 RPG, 3.2 BPG) during the best season of his career, as has Titus Rubles (7.1 PPG, 6.3 RPG).
All three made huge plays in the No. 7 Bearcats' 63-58 comeback win at home against #22 Connecticut that kept them undefeated in the AAC and 22-2 overall. Kilpatrick was all over the floor (26 pts, 12 rebs, 6 asts), but the reason for the win was what ultimately makes the Bearcats a contender: their frightening defense. They give up just under 57 points a night, good for 4th-best in the nation. They swarm to the ball in their 2-3 zone, but they also have the big, physical bodies to man up. Great team defense gets you further in March than anything. Look at all of last year's Final Four teams (except Michigan, who played by the "Trey Burke is having an out-of-body experience, give him the damn ball" rule).
Nobody talks about the strength of the American, so I'll do the honors. Granted, the league is very top-heavy, especially when you look at teams like UCF and Temple. But the teams at the top certainly make it a better league than the Pac-12 or the "dear God, look away from that rotting corpse" SEC. Cincinnati's rise to the top has required them to get through UConn, Louisville and Memphis (the last two on the road), and they still await a showdown tomorrow night with SMU.
Yes, I did just put "showdown" and "SMU" in the same sentence while talking about college basketball
The biggest surprise in the nation might just be the turnaround job done by Larry Brown down in Dallas, where the Mustangs are 18-5, 3rd in the conference, undefeated at home, 18th in the nation in scoring defense, 9th in shooting offense (despite no player averaging more than 14 points a game), and fun to watch because of their relative youth (2 seniors on the roster). Don't fall asleep on Cincinnati-SMU. For the first time in forever, it means a whole lot more than "Hey, we're on TV. Which football recruit is visiting?"
(BTW, shouldn't we expect Larry Brown to win? He is a Hall of Fame coach with championship pedigree in the professional and collegiate ranks…okay, just kidding. This is SMU. This is a freakin' miracle, even for Lar-Bear)
Those first 3 teams I mentioned (Texas, Florida, Michigan) are potentially really dangerous come March. Like, winning-it-all dangerous. The problem is, they've shown us at times how easily they could flop as well.
Michigan is the same free-wheeling, offense-flowing attack as a year ago. Nik Stauskas is filling in for the role of Trey Burke as the go-to guy, while Glen Robinson III is doing a really nice Tim Hardaway Jr. impression as the secondary option that can be equally explosive at times. Robinson was an on-again, off-again threat last year, which Caris LeVert (What. A. Name) has performed, but with a little more consistency. The similarity to last year? No Mitch McGary sightings yet, this season due to back problems. Last season at this point, the light switch had yet to go on for McGary. When he's been healthy this year, he's looked a lot like the guy that tore through March. They could use him soon, as tomorrow starts a four-game-Tunnel-of-Doom stretch (at Iowa, at Ohio St, home vs. Wisconsin, home vs. Michigan St). Get McGary back, and we might be talking reservations for Arlington.
Texas just keeps winning. The resume builders over Kansas St, Baylor, and Kansas were impressive. But the follow-up (struggling to hold of TCU) indicates that there's work to be done to make this team a consistent winner. They have the size & talent up front in Cameron Ridley and Jonathan Holmes, but their youth in the backcourt is a little alarming. However, if they get continue to get consistent performance from freshman point guard Isaiah Taylor (12.1 PPG, 3.6 APG), they'll get buckets. Taylor doesn't have to go berserk like he did against Kansas, just avoid the turnovers and get 10 a night. After that, well, anything is possible come March if you rebound, hit free throws, hustle, and just find a way to win, areas the Longhorns specialize in. The upcoming seven-game gauntlet will tell us a lot about them (at K-State, vs. Oklahoma St and West Virginia, at Iowa St and Kansas, vs. Baylor, at Oklahoma)
I should trust Florida the most. They're the most veteran team in the land with four senior starters, Casey Prather and Michael Frazier II are having career years, Patric Young and Will Yeguete are monsters on the interior, Dorian Finney-Smith and Kasey Hill have been super-subs all year, Scottie Wilbekin has been fabulous at the point for a second consecutive season, they're 6th in the country in scoring D (allowing just 57.4 PPG), and Billy Donovan is a championship-winning coach. What could be the problem with this team? They haven't broken the 70-point plateau in six straight games. It's nice to win ugly, but you need to a little more competent offensively to win a title. Plus, how do you lose in the Elite Eight three straight years without being cursed? Based on the logic of awful horror films starring Milo Ventimiglia  and Jesse Eisenberg, the only way to end this is to kill the dog that started it all (Which is ironic because that first Elite Eight loss was to Butler…God, this movie sucks).
Another construction worker died today while on the job site of the World Cup stadiums being built in Brazil. Great. Because the political rioters needed more reason to go nuts. Can't Neymar just step in and make everything better? Didier Drogba helped bring (mild doses of) peace to his war-torn homeland of the Ivory Coast during the last World Cup qualifying. Why can't Neymar do the same? Everything he's touched in the last year has turned to gold (quite a literal phrase when you look at his contract with Barcelona).
Did Clint Eastwood just save the life of the AT&T Pebble Beach Pro-Am tournament director by giving him the Heimlich? Yup. Should we come to expect anything less? Nope. If you're the doctor, you better get this man on the ground.
I have this strange excitement with Heat-Clippers games. I think it's because it's a matchup that you'd love to see in the Finals, but you know it wouldn't happen in a million years. The Clippers are always going to hold the title of "team with most YouTube moments," which they need to start taking as an insult. They might actually be doing that this season, and even though they lost to Miami, Los Angeles actually made me take pause because they made a strong comeback attempt against a Miami team that couldn't miss. Blake Griffin is playing the best basketball of his career, Jamal Crawford can go off for 30+ points at any given time, and Doc Rivers finally has his guys playing above-average in half-court defense. When Chris Paul gets back, this could actually be the year I hear "Clippers" and don't automatically think "first-round disappointment."
While the Clippers roll, the Spurs are in a bit of a slide, highlighted by last night's loss to Brooklyn. Anytime a Western Conference team goes down to a squad from the East not named Miami or Indiana, it should set off some alarm bells. The Warriors had a similar loss at home to the Wizards. (I don't want to hear any crap about the surging Wizards. They got to .500. We only celebrate that because in the East, that's the equivalent of finding a cure for Bill Walton on TV, also known as cancer).
But San Antonio's struggles should mostly be attributed to an Old-Testament plague of injuries. Gregg Popovich clearly was feeling his team's pain when he rested almost everybody against the Nets. When Kawhi Leonard, Danny Green, Tiago Splitter get back, the Spurs will be back on track offensively. In the mean time, they'll play like an old-school, Pop team by giving up the 6th-fewest points in the league and keeping the Rockets just out of reach of first place in the Southwest division.
All-Star Weekend got two major boosts in the last two days. First, Anthony Davis replaced Kobe Bryant on the West team, meaning the Pelicans will have their hometown star as a selling point to New Orleans locals. Second, the Dunk Contest roster is sensational. Paul George (my man-crush Monday from here to eternity), Damian Lillard, Harrison Barnes, John Wall, AND defending champ Terrance Ross? Think of the possibilities!!! I don't have time to give you all the sick highlights have posted, so I'll go with the clear leader for Dunk of the Year
That being said, there are two things I still don't understand. First of all, the format changes to make the dunk contest a "team event" between the two conferences are awful. They took away the title of individual slam dunk champ? Seriously? How has Adam Silver not been fired yet? This is the worst first decision by a commissioner in the history of forever. It's like the guy can't read. The only thing he saw in the history books is that 1988 was the year the dunk contest was introduced to the NBA, and the new innovation became a success. He's not watching the footage. That moment was about Michael Jordan and Dominique Wilkins, mano y mano, going at it 150%. They wanted to beat the other guy into the fetal position with their rim rocking, and THAT, not some decision by David Stern, created greatness.
&nbsp
Has anybody asked MJ or 'Nique if they like this move? I have a feeling they wouldn't be psyched. Vince Carter would consider this treason. Adam Silver may have convinced the star players to show up, but that doesn't mean the product he's invented will be exhilarating. If anything, less people might watch now.
Oh, yeah, the second thing? Ben McLemore is the sixth competitor. It's not that his highlights aren't sick, it's just that he's the least famous of the group. And, more importantly, I know him as a guy that couldn't win it all at Kansas, plays on the (shriek!) Kings, and has just one #SCTOP10 moment, when LeBron temporarily transformed him into a woman.
Song of the Week
"Happy" – Pharrell Williams
The Grammys proved when Daft Punk wins, Pharrell wins. But the brotha can do his own thing. He's got a real good shot at taking home the Oscar for Best Song with this diddy (Although I feel like every time that a Disney animated film gets a song nominated, it's essentially like they won the award. "Let It Go" was nice, but were you expecting a dud from a Broadway star who most people think is the best Wicked cast member ever? It's an unfair advantage. Plus, Minions over talking snowmen every time). Pharrell not only has the pipes, he has the threads. This cat's got style, even if you thought his Smokey the Bear hat was weird. Who else could think of singing the same song every hour for 24 hours (There have been weirder gimmicks)? If only they had worked the Minions and the dancing Beats pills into this video.
Wait…OSCAR PERFOMANCE BRAINSTORM!!!!
Food of the Week
Subway's Fritos-Stuffed Crunchy Chicken Enchilada Melt
If the name alone doesn't make your mouth water, you have no taste (or soul). I had to go three separate times to get the sub for the first time because they kept running out of the ingredients. Slap on my two new favorite toppings, sriacha sauce and jalepenos, and you will get rather well acquainted with those freaky Sochi double-toilet stalls.
Video of the Week
I don't know if it's healthy for pandas to be out in the snow, but (in honor of the recent second polar vortex) DEAR GOD THE CUTENESS.
Quote of the Week
It's a tie for our newest category:
"I don't give a s###. I'm not Disney, where they have, like, an  Asian girl, a black girl, and a white girl, to be politically correct,  and, like, everyone has bright-colored T-shirts. You know, it's like, I'm not making any kind of statement. Anyone that hates on you is always below you, because they're just jealous of what you have." -Miley Cyrus, on why people hate her because they wish they had a non-controversial life like her
"He has turned out to be something of a bad egg."  -British newspaper The Daily Mail slandering Justin Beiber in the most filthy language possible
Question of the Week
I really wanted to ask who should go #1 in the NFL Draft between Johnny Manziel, Teddy Bridgewater, and Jadeveon Clowney (COMBINE IS STILL JUST TWO WEEKS AWAY PEOPLE!!!!), but that will probably be an article for another day. For now, I must consider this deep psychological thought: why don't I hate T.J. McConnell? He is literally the second coming of Aaron Craft, who should be/ is the most despised figure in college basketball. McConnell can't shoot, can't score, piles up a ton of assists, never turns it over, is a pest on defense that's as annoying as Seth Greenberg's constant shouting, and gets nothing but praise from analysts for being "SO FUNDAMENTALLY FRICKIN' SOUND!!!" For crying out loud, he wears the number 4 jersey too!! So why do I not burn with angst against McConnell like I do against Craft? The answer could explain so much more about the universe.
Assignment of the Week (other than watch Trail Blazers-Pacers tonight, which will be intriguing)
Get tickets to All-Star Weekend while purchasing Pierre the Pelican's head. Prepare accordingly for a week of sheer hell-raising and child-haunting.